Ben Onukwube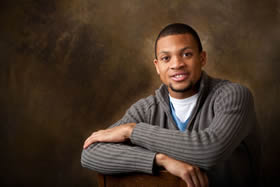 "Engineering found me," says computer engineering major Ben Onukwube. As a child, he liked to take apart his toys, and in high school, he realized his math and science skills could lead to a career in engineering, but he worried about how his family could afford to pay for his college education. "When I got the letter about ECAP," he remembered, "I was ecstatic. It was a blessing to receive this opportunity."
Through the ECAP program, Ben has been able to participate in research, internships and study abroad programs. The summer after his freshman year, he was part of a research project on radio frequency identification (RFID). He spent the next summer interning at Conoco-Phillips in Bartlesville, Oklahoma. In this job, Ben learned about the functional side of information technology and gained interpersonal and communication skills as he worked on data management and service contracts.
"That internship opened my eyes to the possibilities in IT," said Ben. He returned to Conoco-Phillips the next summer to do programming as part of the company's messaging team. Ben explained that it was during this internship that he realized all the advantages the ECAP program had given him. As he talked with other engineering students, who were from engineering programs across the nation, he realized that few of them had as much internship and research experience as he did.
Ben was also able to spend five weeks in Costa Rica, putting in six credit hours toward his minor in Spanish. Next summer, he'll be interning in Walmart's IT department.
On campus, Ben is the president of the National Society of Black Engineers (NSBE) and a recruiter for the College of Engineering. He plays intramural basketball and football, and volunteers at the Boys and Girls' Club. He also plays saxophone in a band.
When Ben graduates, he would like to get some experience in industry, then return to school for his MBA. Eventually, he'd like to get a PhD in higher education and work in academia. His dream is to be a dean of student affairs.