Sydney Dickson
Sydney Dickson studied hard during high school and made excellent grades, but when it came to the next step in her education, she had a lot of questions. Dickson discovered a passion for engineering when a tech company executive spoke at her Carl Junction, Mo., school. He encouraged her to pursue an engineering degree, but no one in her family had a college degree.
How would she pay for an engineering degree? Would she fit in on a large university campus?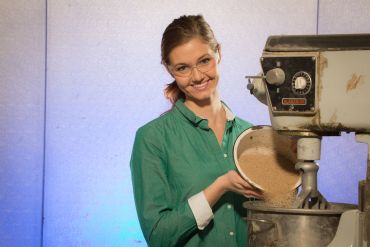 Sydney Dickson pours sand into a mixer in the civil engineering lab. Dickson is working on an honors thesis, which involves preventing damage to concrete by improving the ingredients that go into the mortar blend.
- Photo Russell Cothren
Enter ECAP
Dickson learned about the Engineering Career Awareness Program during a visit to the university. The program provides full scholarships for students who are underrepresented in the field of engineering, including female and minority students.
When Dickson found out she qualified for ECAP, she thought, "Okay, college is a possibility now."
The interview was the day of her senior prom, and Dickson had to skip the pre-prom activities for it, but she didn't hesitate. "I knew it would be worth it."
Along with ECAP, Dickson was also accepted into the Honors College, an elite academic experience for students at the University of Arkansas.
Dickson still had worries, though. She had no idea what to expect when she got to Fayetteville, and because she didn't know anyone who had been to college, no one could answer the questions she had.
Forging Friendship
Dickson's anxiety about how she would fit in at the University of Arkansas is not unique.
Troy Alley left his home in Pine Bluff in 1965 to pursue an engineering degree at the university. As an African American, Alley knew that life at the university would be challenging, and he wanted to prepare himself, but he wasn't sure how.
"You're going where?" asked one friend. "First of all, you're crazy. Second of all, you'll be back after the first semester."
Troy made a bet with his friend that he would stay, and he did, earning his bachelor's degree in electrical engineering in four years.
Along the way, Alley learned how to succeed in college and in life. Today, he uses that knowledge to help other young people overcome the same kinds of challenges that he faced in the 1960s. His efforts led to ECAP.
The program offers a summer bridge program to help new students adjust to life on campus at Fayetteville prior to the start of classes. New participants live together in a dorm, and their days are filled with college preparation workshops, trips to engineering facilities and fun activities like movie nights and cookouts.
Dickson smiled as she recalled getting to know her fellow ECAP students. "Those three weeks before school were bonding time," she said.
ECAP students continue to live in the same residence hall and support each other once school starts.
"It was nice to have them there when I needed help with homework," Dickson said. "They're my family. If I'm talking to someone and ECAP comes up, it's instant brotherly/sisterly love."
'The Strongest Vehicle You Have'
Dickson got to know two anchor personalities of the program during the bridge program, assistant deans Thomas Carter III, or "TC," and Bryan Hill.
"A lot of talented students don't consider engineering because no one they know is in that field, or because they don't see a lot of engineering students with the same background as them. The goal of ECAP is to remove barriers for those students, from the time they arrive on campus all the way up to the day they get into grad school or get their first job. " Assistant Dean Thomas Carter III
"It's so nice to be able to waltz into their office whenever I have a question," she said. "I knew I could go to TC if I was having academic problems, and I knew to go to Bryan when I wanted to apply for study abroad grants."
ECAP students also become part of a network that extends beyond campus. Each summer, they are required to take part in extra-curricular activities, including study abroad, internships and research experiences. The ECAP staff members help them find these opportunities, and participating in these helps the students gain even more connections and experience, deepening their professional and personal network.
This emphasis on connection is no accident. Alley envisioned ECAP as a way to help students build a personal network that would help them in college and beyond. "Your network is the strongest vehicle you have," he explained. "It's more important than money."
Dickson, who is majoring in civil engineering, has studied abroad in Belize and India. She interned at Bechtel Corp., an oil, gas and chemical company where she discovered that she really enjoys the business side of engineering. She's looking forward to her next internship, with Murphy Oil, because she'll get experience in field work.
After ECAP
Every ECAP graduate is either seeking a higher degree or working in engineering. Many of these graduates become part of the network available to current ECAP students.
Nehemiah Stephens is one of these. Stephens graduated in 2013 with a bachelor's degree in mechanical engineering. He returned to campus this spring to conduct interviews for his employer, GE Healthcare.
"I get to see the great talent here," Stephens said. "ECAP makes academic excellence number one. They want to support and really honor those people who do well in school. I'm glad I got to graduate from it, I really am."
As a junior, Dickson is now considering the next phase of her life. Based on her experience at Bechtel, she's thinking about adding an M.B.A. to her resume. Or maybe she'll find inspiration in her next internship or her honors thesis research project. Whatever she does next, she will have plenty of help and support from her ECAP family. It was an ECAP scholarship that allowed Sidney to come to the U of A, but what she appreciates most is what she will take with her when she leaves: the friendships she's made and the network she's built.
Those relationships mean a lot more than the dollar amount, she said.
Published: 2/24/2014
By Camilla Medders
University Staff Writer